CURRENT NEWS
APRIL 2020
We are launching BENDERS TV this month!
Featruing the debut episode of THE BENDERS CIRCUIT 
NOV 2019
The BENDERS CIRCUIT at LACDA
Expanded Documentary Event
11/8-11/9
FEB 2019
CALLER ID ENTITY on AMAZON PRIME, GOOGLE PLAY, and REDBOX!
Watch it, review it! Amazon Prime

DEC 2018
ONE LOVE RANCH MALIBU! Benefit Concert
We are shooting, live streaming, and editing a long form for this event,
Thanks to Linda Perry, Kerry Brown and the entire WE ARE HEAR crew!
Go to EVENT WEBSITE to Donate!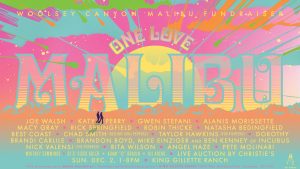 DOLLY PARTON "Girl In The Movie"
SONY/NETFLIX/WE ARE HEAR
from the movie "Dumplin" starring Jennfer Aniston
TEM shot and edited the music videos and edited the promo for this release

LION "FICTION"
CAROLINE/FICTION/WE ARE HEAR
Directed and Edited by Angela Izzo and Eric Zimmerman
A new video for a fierce artist from the UK.
Produced by Linda Perry, Kerry Brown, and We Are Hear!
LION "Fiction" video
APR 2018
The Benders Circuit presents
"BEND SPACE"
Documentary Event – Coming Up 4/26/18!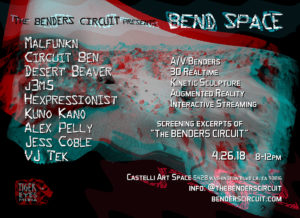 MAR 2018
"HIGHER INDULGENCE"
Tiger Eyes edited series episodes for PLAYBOY TV
FEB 2018
HALF QUALIA
Internet film for Art Movement
Art by Joe Mckee, with lighting by Nicholle Tom
(Tiger Eyes shot Jan. edited Feb. plus preview for upcoming Live Event!)
JAN 2018
CALLER ID ENTITY: Premiere Screening
Go To: Facebook Event Page
December 2017
RED BULL and TIGER EYES team up for ART BASEL piece, featuring 4 Women who are mural artists. We did all the editing and post production. Thanks Red Bull!
November 2017
Tiger Eyes Media presents CALLER ID ENTITY, a Feature Film directed by Eric A Zimmerman. This sci-fi thriller is repped by ITN Distribution and is at AFM 2017! ITN AFM Office: Loews 705. Stay Tuned for news on the movie release and the soundtrack!
September 2017
LOMOGRAPHY SPONSORSHIP: Angela Izzo is sponsored by Lomography and will appear in their online features.
POLAROID SPONSORSHIP: Angela Izzo is sponsored by Polaroid.
August 2017
THE PERFECT WORKOUT: Eric Zimmerman directed a series of internet films for a fitness company in Sand Diego.
July 2017
"Do It Again", a music video for singer/songwriter LUCY ARNELL, directed by Angela Izzo is released.
June 2017
Angela Izzo directed "Do It Again", a music video for singer/songwriter LUCY ARNELL. This project is now in post.
Eric Zimmerman went to Houston, TX, to direct a marketing film for HOUSTON HOME AUTOMATION.
Eric Zimmerman traveled to Chicago, IL, to direct a documentary trailer on TOY DESIGNERS.